It's that time of the year once again when Pumpkin Spice Lattes get hand-carried out of your local Starbucks like it's Costco water. Are we right? Whether you love it or hate it, we're pretty sure you'll love what we have curated for ya'll - our 2023 Fall Color Palette inspo to help you with your Fall design projects and other autumn escapades. You ready?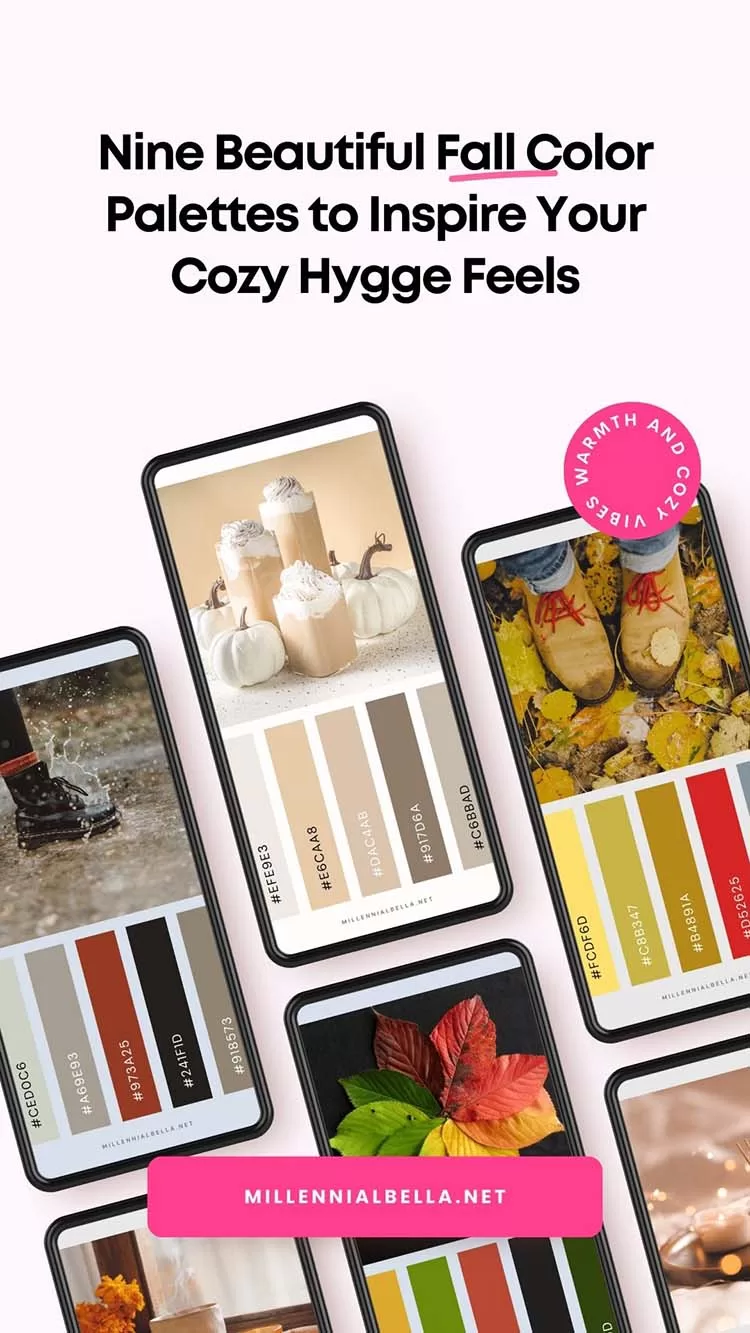 The ephemeral beauty of autumn, with its rich hues and poignant transience, has long been a muse to poets, artists, and now, it can be a significant source of inspiration for your brand's visual identity. The season is marked by a mélange of colors that are as robust and striking as they are harmonious, making a fall theme color palette an impactful choice for branding and design strategies. As we bid adieu to the scorching sun and welcome the gentle touch of a temperate fall 2023, it is time to embrace the evolving trends and lend your brand an evocative, seasonal edge.
Why opt for a Fall Theme Color Palette?
Before diving into the nuances of the fall 2023 color palette, let's explore why embracing the colors of autumn can offer your brand a compelling and differentiated stance.
Emotional Resonance
Fall is a season that evokes a myriad of feelings. The color spectrum from luscious amber to rich cranberry appeals to emotions ranging from nostalgia to warmth, lending a sense of dimension and profundity to your brand's visual storytelling.
Timeless Sophistication
Colors like burnt orange, mustard, and deep teal are not only visually stunning but also ooze an ageless sophistication that aligns seamlessly with brands aiming to evoke elegance and luxury.
Versatility
A fall theme color palette doesn't merely resonate with Thanksgiving or Halloween; its versatility can cater to different aspects of branding, from web design to packaging.
Elements of a Fall 2023 Color Palette
As we venture into the autumn of 2023, the trends in color palettes echo the overarching shifts in consumer behavior and societal moods. The shades are more mature, subdued, yet adventurous, indicative of a collective transition towards greater adaptability and resilience. Here are some noteworthy colors to consider:
Verdant Forest Green
This shade resonates with the late stages of fall, where evergreens stand tall amid the shedding foliage. Forest Green is a timeless addition to any palette, exuding luxury and stability.
Spiced Honey
Evoking the warm, golden hues of autumn evenings, Spiced Honey offers a touch of cozy optimism, ideal for brands aiming to reflect comfort and dependability.
Dark Plum
For a touch of drama and sophistication, look no further than Dark Plum. This color serves as an audacious yet refined foundation or accent, adding depth and complexity.
Desert Rose
This blush, bordering on terracotta, captures the delicate balance of warmth and elegance. Desert Rose is especially ideal for brands looking to evoke both softness and strength.
Cosmic Navy
A richer, more resplendent cousin of basic navy, Cosmic Navy is simultaneously grounding and expansive, offering a celestial undertone to your branding.
A Beautiful Autumn Foliage is the winner of our autumn-inspired palette for 2023. Evoking a decadent hue of verdant forest greens and terracotta burnt oranges, designers will agree to its marked sophistication and promising visual appeal.
Looking for amazing design assets for your branding project?
Get access to unlimited template, theme, and design asset downloads for as little as $10.50/month
Implementing a Fall Theme Color Palette in Branding
Logo Design
When incorporating fall colors into your logo, ensure you opt for shades that are consistent with your brand personality while resonating with the emotional undercurrents of autumn.
Web Design
Utilize your chosen fall 2023 color palette to offer a cohesive and visually stimulating user experience. Subtle gradients, button colors, and even font hues can be tailored to fit your autumn-inspired theme.
Packaging
Make an unforgettable impression by incorporating the nuances of your autumn palette in product packaging. This not only amplifies brand recall but also enhances the unboxing experience.
Social Media
A cohesive fall theme color palette can make your social media profiles and posts visually captivating. Harmonious yet bold visuals will not only engage but also convert.
Autumn brings with it a symphony of colors that are too alluring to ignore. The fall 2023 color palette is geared towards shades that are as adaptable as they are luxurious, offering endless possibilities for brand enhancement. Implementing a fall theme color palette into your branding strategy is akin to capturing the essence of the season: dynamic, emotionally resonant, and ever so stylish.
By tuning your brand to the rhythms of the seasons, you're not merely following a trend; you're crafting a brand experience that feels as naturally alluring as the season itself. Take this opportunity to infuse your brand with the rich, emotive, and unequivocally sophisticated hues of autumn, and watch your brand equity climb as steadily as the leaves descend.
Embark on your seasonal brand transformation today, and let the fall 2023 colors guide your way to a flourishing year ahead.
Join the Fearless Bella Newsletter
If you aren't in the club yet, go ahead and sign up so you can get access to our exclusive email content and the golden key to your very own Private Resource Library of epic business finds. It's worth it!