Have you heard of DotCal Appointment Booking & Scheduler? If you're a service provider like us, you probably schedule online appointments with your clients. There are probably hundreds of extremely great appointment scheduling software out there to choose from!
But, here's the kicker. 👀
There is a free online appointment scheduling platform that screams modern, simple, elegant, and easy to use.
It's called 📆 DotCal. 
DotCal is a free appointment booking app for service providers such as creative designers, coaches, digital creators, lawyers, and business owners. 
Think FloDesk (email marketing) but for appointments. 
There's probably hundreds of online schedulers out there that pop right in your brain when your hear the word appointments. There's the well-known calendar management systems such as Calendly, TidyCal, You Can Book Me, Bookly, and Appointy. 
Or if you're feeling sophisticated, there's also 💎 Motion. 
But the question is: What sets Dotcal apart?
DotCal appointment booking & scheduler is elegantly minimalistic.
One thing I adore about the platform is its elegant design which is minimal yet sophisticated. If you're a web designer or a creative freelancer, then this is your perfect match. Guaranteed. 
It is a design-first scheduling platform that allows you to create beautiful booking pages for anyone – even your not-so-tech-savvy person can manage to use by themselves!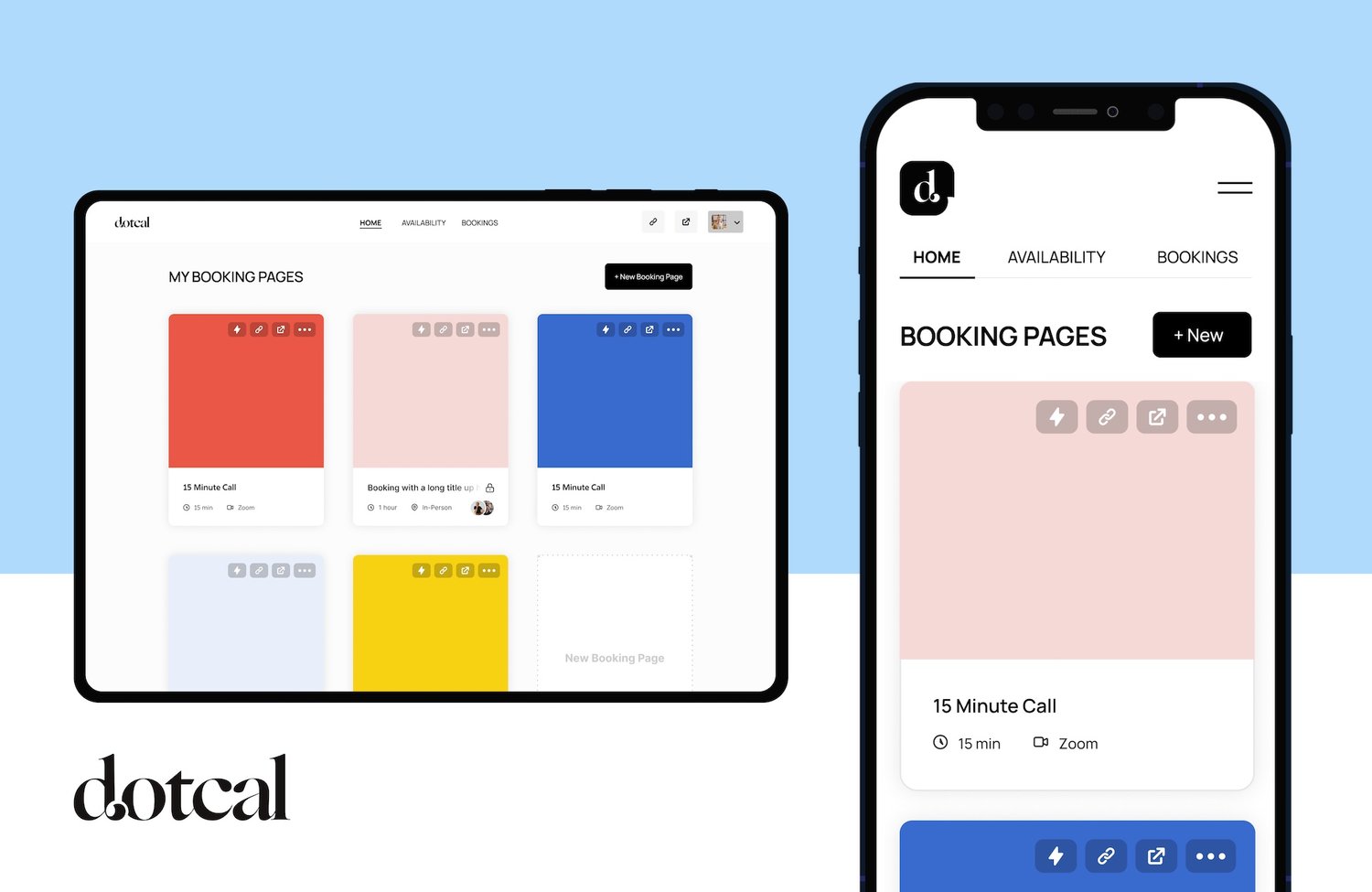 Get 50% OFF On DotCal
COPIED
There's plenty of professional-looking templates to choose from. You can go modern, fun, or elegant. Whatever your personality is, you can customize your booking page effortlessly in just a few clicks!
DotCal Appointment Booking & Scheduling Features
When you book appointments with your clients, you want your scheduler to be straightforward and easy to use. DotCal does just that. 
Free Members Get the Perks Too!
👉 Choose 1 calendar to sync your appointment page
👉 Schedule unlimited meetings with clients
👉 Choose 1 meeting template
👉 Add booking information on your custom booking page
👉 Get your own personalized booking link
👉 Embed your booking page to your website seamlessly
On the brightest of sides, if you decide to go Pro like the big girl you are, you get even more benefits!
👉 You get all the free perks (obviously)
👉 Unlock unlimited meeting templates
👉 Integrate 2 calendars (because you're so busy)
👉 Remove the DotCal branding
👉 Get 24/7 support 
Finally, if you're CEO status already, guess what? Yes, even more options for the VIP in you!
👉 Everything from the Pro plan
👉 Connect 6 calendars (because ya' busy af)
What excites me the most is that since DotCal is at its early phase, the price is extremely affordable as compared to its competitors. With that said, now is the perfect time to invest and take advantage of this promising scheduling software. 
You never know when the price goes up. But I bet once it gains massive traction in the market, it will level up its prices along with its competitors.
Let's take a sneak peek behind Dotcal's intuitive and user-friendly interface.
Video walkthrough coming soon. 
Note: The tests were performed using my DotCal Pro (paid) account. Honestly, you can just go ahead and create your FREE account and explore the platform yourself, right? 👀
When someone books an appointment with you, it will show up on your calendar. Then, if they decide to cancel or reschedule, they will be redirected to your booking page and will be shown other available times to reserve.
👈 This is how it looks like for your clients upon successful cancellation or rescheduling from your booking page.
Down below is how it looks like for your calendar once someone books an appointment with you. 👇
In the near future, I'm pretty sure that more enhancements and features will be developed. Rumor has it that form creation is in the works, but don't quote me on that. 🤔
Try DotCal for FREE Today!
You can use this code to get 50% OFF for 6 months (if you decide to purchase):
MILLENIALBELLA50
If you're looking for that perfect booking app to wow your clients (because first impressions last), then look no further because Dotcal is your secret weapon. It was just 😍 love at first sight when they introduced their product to me (thanks to David). Well, at least for me which is why I super duper highly recommend this gem.