All you need is wifi and a dream
You are here because you're looking to start. You're taking action. I applaud you for that because the perfect time is now.
You know deep inside that YOU are a CREATIVE, but this tiny voice is saying you're an impostor. I get it. I've been there, so I unstuck myself and I will show you how.
STOP overthinking and just start it already.
👋 Why, hello there! I'm Kimmy!
Hey, you! I'm Kimmy, a digital nomad, founder of Millennial Bella, and long-time WordPress enthusiast.
I help DIY Solopreneurs craft their dream brand into a profitable online business so they can slowly (or quickly) ditch the 9 to 5 and achieve the Passive Income Lifestyle.
Having worked the nine to five for 7+ years, spending 3 hours everyday in Seattle traffic, I knew that something needed to change.
So, I decided to build my own business - and you can too.
I help people create, build, and grow digital businesses
without having to hire expensive web and graphic designers, copywriting experts, and marketing agencies!
I help people uncover their true business potential
by harnessing the inherent qualities of the subconscious creative within themselves
I help people create beautiful share-worthy brands
by helping them unleash their inner digital qi so they can attract their dream clients.
I help people develop and cultivate a strong mindset
through thoughtful feedback and constructive criticism that empowers and encourages business growth
I have always known that I wanted my own business since I was a teenager. I started selling online clothes (
dropshipping
) back when 
Multiply
(a social networking + online photo-sharing platform – now defunct) was still alive. Think back 2005. I was 15 years old. 
Fast forward 10 years later, I continued the legacy I built for myself.
 2011. The year I came to the US with only $100 in cash. At 23 years old – with no idea on how to live here, how to interact with people, nor how to get hired. My mom bought me a cheap Acer laptop. Then, the world became my oyster (technically, the internet but you get it).
Obviously, I had to get a job so I became a cashier. I used this money to invest on myself.
 2015. I started selling on eBay. Random stuff. Kitchen tools, clothes, pet items – all in one shop. Then, magically – as if someone turned a light 
 bulb on, my tiny store started growing. 
My phone kept dinging with  payment notifications.
Seriously. It was the best feeling ever. I remember getting a few random ones and I felt so happy already. It was butterflies in your stomach, almost nauseating kind of thing. I remember showing my eBay and PayPal accounts to my mom and she would not believe me.
I guess what I'm trying to say is – if I can do it, so can you. You just have to believe in yourself and trust in the process.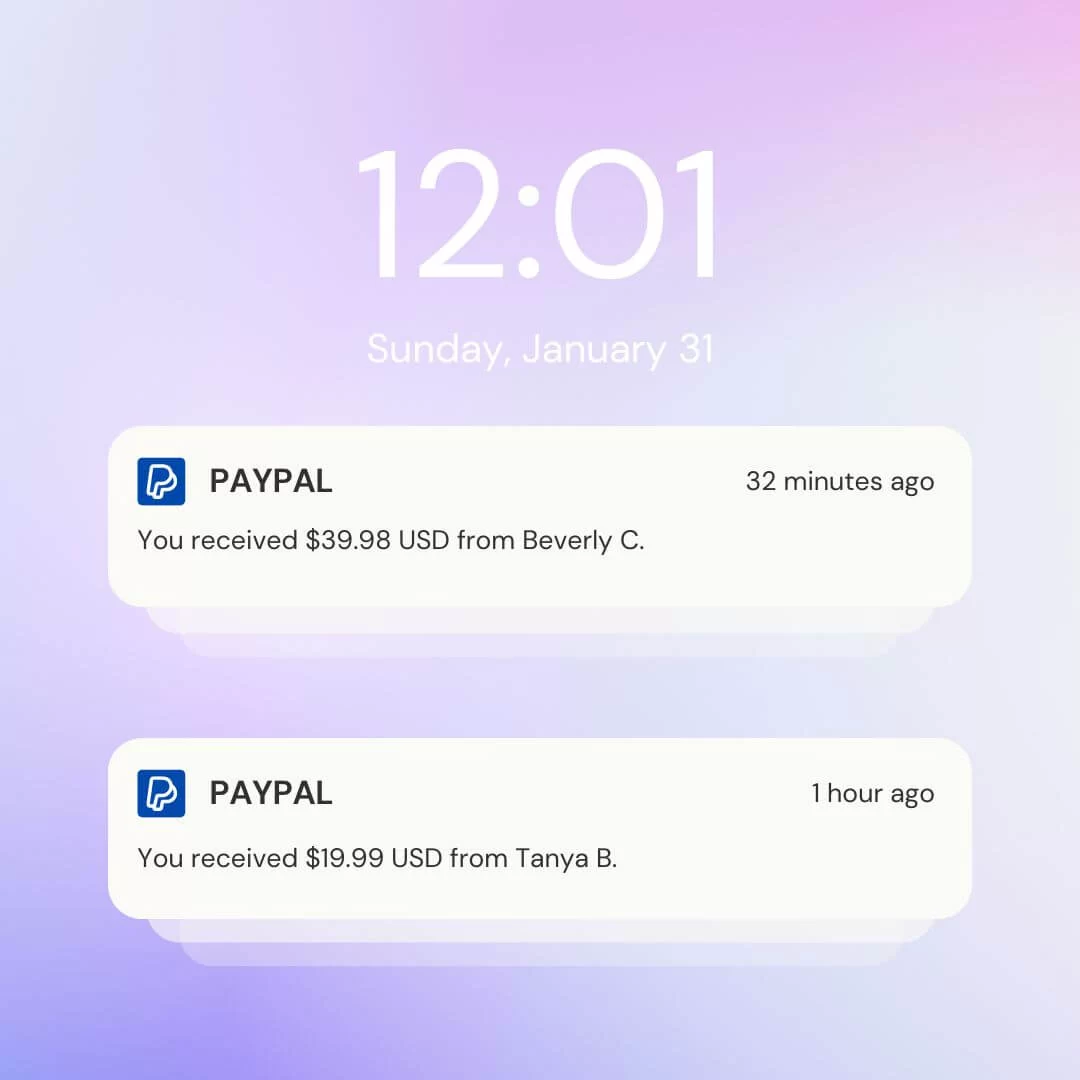 Mockup was created for visual appeal purposes only.
Date, time interval, and amounts are actual data.
2019. The money rush hit me hard. Negatively. I didn't know how to handle it and ruined my credit score with credit card debt because of overspending. Lesson learned.
You can read about how I destroyed my credit score and built from the ground up here ➝
2021. A fresh new beginning where I set the goals I wanted for my future self. I re-ignited the fire within and started taking steps in building my dream business.
2022. I made Millennial Bella official and attached that LLC behind it. Nursing school + dream business + personal life + relationship = burnout. That's why I take my time in whatever I do. 
2023. Official launch of my web hosting business DBA Prolific Host.
I'm INTJ. 
Sushi for the win. 
I shouldn't be talking about this, but it's Fight Club. 
I grew up in the "pearl of the orient seas" called the 
 Phillippines. 
I love gardening, writing, movies, disperse camping, hiking, designing, and cooking. I also love to Netflix and chill (from time to time).
 The Helper. Yep, that's me and that's why I'm in this genre! To help fellow achievers like you!
I am 
 aka Pisces.
It's the one from Suits by Harvey Specter: "And that's the difference between you and me. You wanna lose small, I wanna win big." 
I really highly recommend Google Workspace because it is extremely affordable for business starters.
Kinda counterintuitive advocating on ditching the 9 to 5 and here I am in nursing school, right? 
Well, commoners see it that way but my goal is not to be a med-surg nurse forever. I want to be a health coach+ and build another business in the healthcare industry because if you already don't know yet - the US healthcare industry sucks; And I want to change that.  It's in the works.